Granola Strawberry & Black Currant
Muesli with 46% fruit pieces. Mixed together with healthy Swedish oat and flakes from barley and wheat. Mer beskrivande text, framhäv smak/frukterna och nyttigheterna!
Weight 750 gram
Did you know that…
Banana is actually a berry and not a fruit? And, that blueberry bushes covers over 15% of Sweden´s area?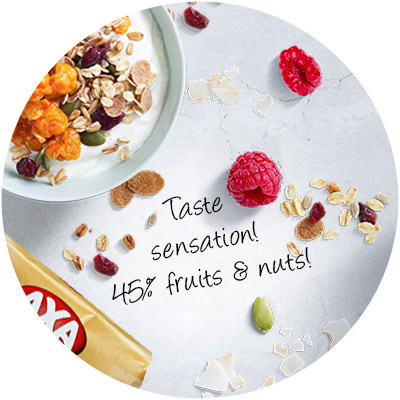 What's inside?

Rolled oats*, roasted banana chips (banana, coconut oil, sugar, banana aroma), wheat flakes*, raisins, pineapple (pineapple, sugar, acidity regulator citric acid), corn flakes (maize flour, barley malt syrup, sugar, salt), oat crispies (oat flour*, rice flour, sugar, barley malt syrup, salt), papaya (papaya, sugar), toasted coconut chips (coconut, sugar). The product contains 46% fruit pieces. *Wholegrain: 43%.

May contain traces of:
Nuts (including almonds)

Nutrion Facts (Pr. 100 g)

Energy, kJ 1650
Energy, kcal 390
Fat (g) 9,0
- of which saturates (g) 6,2
Carbohydrate (g) 66
- of which sugars (g) 25
Dietary fibre (g) 6,6
Protein (g) 7
Salt (g) 0,3


Weight 750 gram